Our concrete paving crews have years of experience and have been recognized with paving awards for numerous projects. We recognize that the same solution doesn't work for every project.
Most recently, M.E. Collins Contracting received the Award of Merit for Concrete Pavement Construction for the best Airport project from the Nebraska Concrete Paving Association. (Tekamah Municipal Airport; Hanger Taxilanes and Apron & Relocate Connector Taxiway)
Drainage and stormwater management is a key element to any construction project but they're especially important for roads and highways. At M.E. Collins we can manage any project from smaller pipe culverts to large-volume concrete box culverts. With the variability of the weather here in the midwest you need to make sure that your water management infrastructure is up to the task.
Underground utility work can be a headache so it's important that when work needs to be done the project is completed on time and on budget. At M.E. Collins we perform a wide range of underground utility work, including water and sewer main, storm drain and boring. If your community needs to upgrade or expand your underground utility infrastructure call M.E. Collins today.
Underground utility projects need to be done right the first time. You don't want to have to dig a second time to correct mistakes that never should have happened.
Our Projects:
Nebraska City Highway 2 Utilities Relocations – Nebraska City, NE
County Road J Sanitary Sewer – Wahoo, NE
2015 Consolidated RWD #1 Highway 2 – Otoe County, NE
MUD Install Water Mains in Conrad Apartments – Omaha, NE
MUD Replace Water Main in Calhoun St. – Bellevue, NE
MUD Park View Blvd., 81st St. to Park Crest Dr. – La Vista, NE
MUD Holy Name Housing, Franklin St., 32nd St. to 33rd St. – Omaha, NE
MPS Aldrich Elementary Water Main Improvements – Omaha, NE
MUD Anne St., S. 121st St. to Oaks Lane – Omaha, NE
MUD Sunset Dr., Seymore St. to Highland St. – Omaha, NE
MUD N. 75th St. and Richmond Drive – Omaha, NE
Arbor Crossing Sewer & Water Improvements – Nebraska City, NE
Rokeby Road 70th St. to 84th St. Trunk Sewer Segment – Lincoln, NE
Water District 1210 in Greenwood – Lincoln, NE
MUD WP1511 Fontanelle Blvd. – N. 48th St., Wirt St. to Miltary Ave – Omaha, NE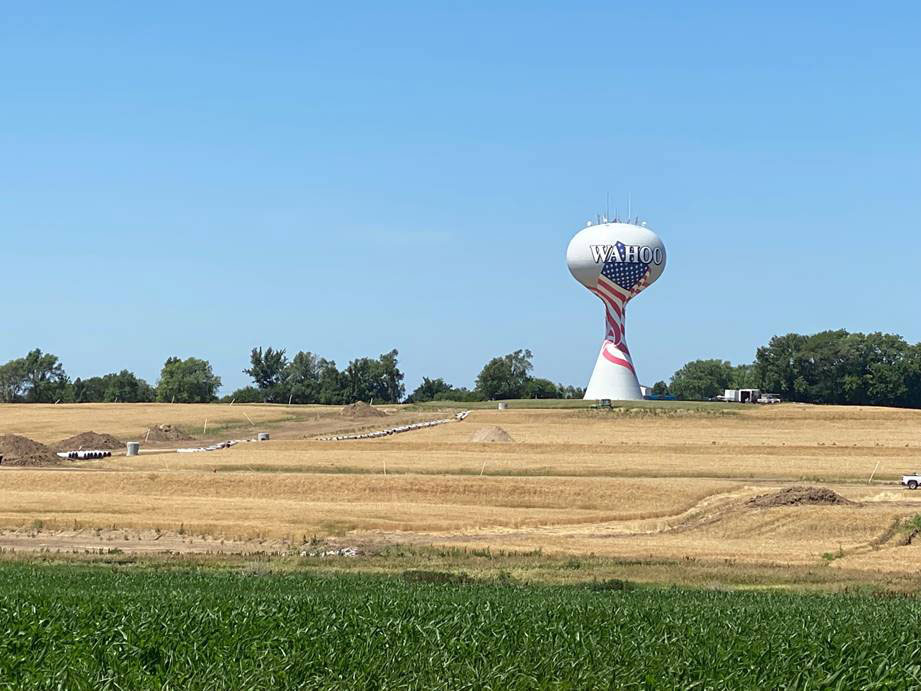 If you need grading done give M.E. Collins a call. We specialize in truck dirt projects and have the skills and experience to ensure that the project runs smoothly from start to finish. Trust the pros at M.E. Collins to get your project done on time and on budget.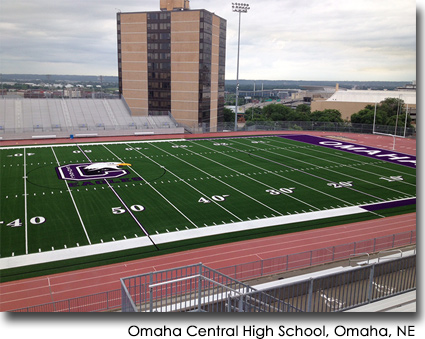 One of our newer construction divisions, we are proud to be a part of building first-rate athletic tracks and fields for high school students in Nebraska. M.E. Collins has experience building and refurbishing: Natural Grass/Synthetic Football Fields, Synthetic Baseball Fields, and facilities for track and field activities.  We have experience working with both natural and synthetic turf.  We have been involved with every step from design to completion on several athletic fields and complexes.
M.E. Collins Athletic Field Construction Services:
Design/Build Football(Artificial & Natural Grass)/Baseball/Running Track Facilities
Project Design
Earthwork – GPS and Laser grading
Soil Stabilization (Fly Ash/Lime)
Recrowning existing natural grass fields
Storm Sewer, Sanitary sewer, waterline installation
Polymer Trench Drain Installation
Cast in Place Concrete Structures
Structural Concrete
Concrete Flatwork
Aggregate Base Installation
Permeable & Impermeable Liner Installation
Shot Put/Discus Pads
We've completed projects at: Omaha Benson, Bellevue East, Bellevue West, Omaha Northwest, Omaha South, Omaha Bryan, Lewis Central/Iowa Western College, Treynor Athletic Complex, Hebron Track & Field, Henderson Track and Field.
At M.E. Collins we're proud of our contributions to help make communities better places to live. We've been a part of several downtown beautification projects as well as a number of parks and trails projects. When it comes to ensuring that your community is poised to meet the needs of your citizens today and for the years ahead you'll have a trusted partner in M.E. Collins.
We have experience across Nebraska and Iowa and look forward to continuing to help communities stay beautiful and meet the needs of their residents.
Our bridge rehabilitation crews specialize in placing preformed waterproofing membrane for bridge decks, bridge nosing, setting up forming for shotcrete applications and applying shotcrete to repair distressed structures.
Among all of our equipment is a hydro-platform trailer that our crews operate to get to difficult places under bridges and other structures.
These can be hauled or picked up. Please call for aggregate availability (this changes daily), pricing, delivery and pick up.
Fuel costs & material costs vary based on current market pricing. We have installed a scale to this yard for accurate tonnage weights for sales.
Our Aggregates yard is under 24 Hour Surveillance.
Types of aggregates:
Crushed Concrete
Asphalt Millings
Dirt
Grizzly Dirt
Sand
Call office for available sizing, lengths and pricing.